DWUser.com
Empowering Web Creativity
Support Center - EasyRotator for WordPress
EasyRotator KnowledgeBase – Checking Your Editor Application Version
New features are regularly added to the EasyRotator editor application via update releases. To check what version you're using, select
Help > About EasyRotator in the editor application: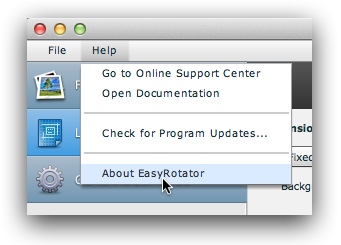 You'll see the exact version number listed in the About dialog:

The important number is the last one, the release number. This indicates that the version in the example above is 1.0.114.
How to update
If you've been directed by support to update your editor application version (or your version number is less than the version displayed on the EasyRotator homepage), download and run the following installer to update:
If you have any problems with the editor behaving strangely after updating, also update your Adobe AIR version.
We're Here to Help!
If you have any questions about this article or about using EasyRotator, please let us know by opening a support ticket below.