DWUser.com
Empowering Web Creativity
Scrollbar Styler for Dreamweaver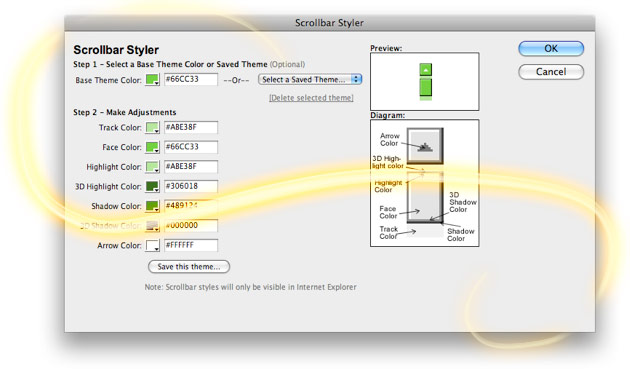 What Is It?
The Scrollbar Styler for Dreamweaver is an extension for Dreamweaver that allows you to quickly and easily customize browser scrollbars. Your site guests who use Internet Explorer will see scrollbars that match the overall design of your site. (Please note - due to browser limitations, other browsers such as Safari, Firefox and Chrome will not display the customizations.)
Themes can be automatically generated from a base color, or built by hand. Theme-saving support allows for re-use of common color schemes. See the features in action in the Usage Demo Video.
Samples and Usage Demo
How to Use the Extension
The extension interfaces with Dreamweaver through the Behaviors Panel (Window > Behaviors). After selecting the <body> tag in your document, click the Add Behavior button and select the Scrollbar Styler option. The configuration dialog will open, allowing for creation of a color theme. After desired adjustements are made, click OK to apply the styles. If you need to make changes later, re-select the <body> tag and double-click the Scrollbar Styler item in the Behaviors Panel.
Visit the Support Center for comprehensive usage assistance options. Resources include a detailed Usage Demo Video and text-based Installation and Usage Instructions.
Requirements and Compatibility
Platform:

Windows

,

Mac

Dreamweaver Version:

(Dreamweaver is required)

Browser Compatibility:
Customized scrollbars are

Supported in Internet Explorer

, but

Not in other browsers like Safari, Firefox and Chrome
Questions?
Have pre-sales questions? Please use the
Contact Us
box at the bottom of this page.
Purchase Now
Price:
$ USD
License Type:
License grants a single developer the right to use the software. Extension may be used on unlimited sites.
Included Support Options:
Complimentary email support (response time usually same business day or less)
Customer forum access (interact with other users of the software)
On-demand Support Center resources
Safisfaction Guarantee:
While no trial version is available, we offer a 30-day money-back guarantee if you are at all dissatisfied with your purchase.