DWUser.com
Empowering Web Creativity
XML Flash Slideshow v4 - iOS and Android Compatibility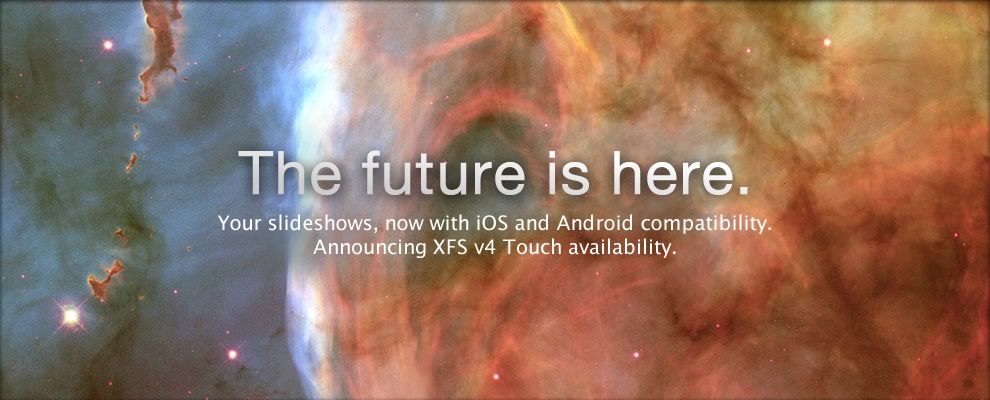 Add Touchscreen Compatibility to your Existing Slideshows in Seconds
The standard Flash-based XFS v4 player is great for desktop and notebook computers. Until now, though, visitors on touchscreen mobile devices were left out of the fun. No more. Now, with as little as one click, you can enable iOS and Android compatibility for your existing and new XFS v4 slideshows.
Simply select the new Touchscreen Content tab in the wizard, choose a touchscreen mode, and you're ready to go - non-Flash content will automatically be displayed for touchscreen visitors.

The following example was built in less than 5 minutes. Load this page on your iPhone, iPad or Android device to see the touchscreen presentation:
This is only the tip of the iceberg. Just as with the standard Flash-based player, the sky is the limit when it comes to customizing the touch-mode presentation. Either an inline presentation or a special fullscreen presentation can be displayed. When using the inline mode, you can build a custom layout using the drag-n-drop layout editor. Include custom buttons and even custom HTML.
And remember - this is only the start. Want something changed or added? Simply ask and you'll probably get it. Suggestions are welcome and encouraged.
Get Started
Touchscreen compatibility is part of a large update release. Here's an overview of what's new in Build 214 and higher:
Touch-screen compatibility - See the manual for getting-started documentation.
New Visual Ken Burns Effect Editing - Drag "focus pins" to the points of a photo you want to highlight and everything else is handled for you.
Built-in Image Resizer/Optimizer - No longer any need for optimizing photos in Photoshop or Fireworks before deploying - let the wizard do it for you.
Feedback Panel - Find a bug? Super-excited about some feature? You can let us know directly from the wizard via the new Feedback button in the bottom right.
Automated Security Settings - In previous builds, previewing on a site for the first time often required configuring the Flash Player security settings. Necessary configuration updates are now automatically made, letting you create slideshows even faster.
Important: To take advantage of the touch-mode preview, you must first update your Adobe AIR installation to version 2.5.