The Help Menu appears as follows: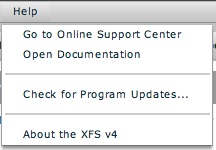 Each option does the following:
Go to Online Support Center - Opens a browser window and directs you to the XFS v4 Support Center.
Open Documentation - Provides a shortcut to view this documentation online.
Check for Program Updates - By default, the program periodically checks for updates and any new starter templates which might be available. However, you can force an immediate check for updates by selecting this option. You will receive this message:

The next time you launch the wizard, program updates will be checked for.
About the XFS v4 - Displays a dialog with program information, including the build version.